GRÅA PARKETTGOLV
Gråa golv väljs ofta till klassiska och moderna inredningar. De är universella och passar olika stilar (de matchar speciellt vintage-stilen). Rätt utvalda detaljer hjälper att skapa inredningar av olika typer. Beroende på dekorationer kan interiörerna med gråa golvbrädor bli både varma och kalla.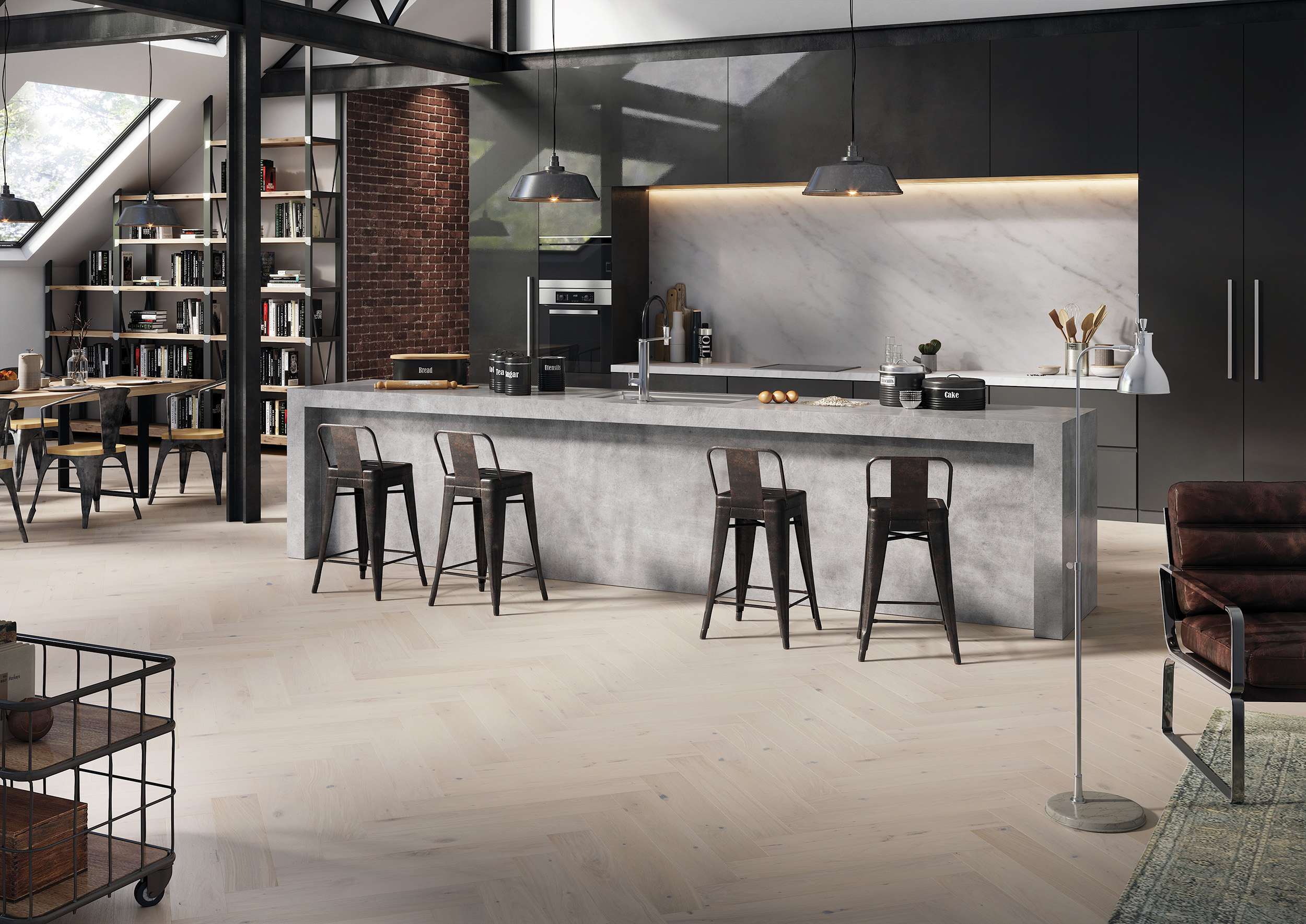 GRÅA PARKETTGOLV FRÅN BARLINEK
Barlinek erbjuder olika typer av gråa, borstade golv. De är tillgängliga i olika nyanser och behandlingar. Dessa är bl.a.:
Ek Touch (Senses-kollektion) – Breda och gråa golvbrädor täckta med mattlack. En naturlig trästruktur framhävd med borstning. Lagom antal kvistar.
Ek Cardamomo Molti (Tastes of Life-kollektion) – Vitborstad grå ek, behandlad med mattlack. 3-stav (golvet påminner om en klassisk parkett). Få kvistar.
Ek Cardamomo Grande (Tastes of Life-kollektion) – En grå, dubbelfärgad ekplank. Behandlad med vit borstning och mattlack.  Fin ritning av trä med få kvistar.
Ek Marzipan Muffin Grande (Tastes of Life-kollektion) – Ett vackert grått golv som påminner om massiva brädor. Färgad till fin grånyans som framhävs av borstning och mattlack.
Ek Alabaster Grande (Pure Vintage-kollektion) – Ett subtilt1-stavsgolv i gråvit nyans, borstat och täckt med mattlack. Rustikt golv med subtil karaktär dekorerat med flera kvistar.
Ask Platinum Grande (Pure Line-kollektion) – Borstad grå ek med tydliga årsringar och enstaka kvistar. Golvet täckt med mattlack.
Ek Marzipan Muffin Molti (Decor Line-kollektion) – Grått golv, 3-stav. Golvets skönhet framhävs genom borstning och mattlack.
Ask Platinum Molti (Pure Line-kollektion) – Ett grått askgolv med en tydlig struktur av trä. Borstat och behandlat med mattlack. 3-stav.
ETT GRÅTT GOLV – VILKA DÖRRAR PASSAR?
Att skapa en stilig inredning med gråa golv är inte lätt. Grå är en problematisk färg. Som tur är, är den universell och kan matchas med både ljusa och mörka färger. Man måste komma ihåg att anpassa dörrar inte bara till gråa golv men också till färgerna på möbler och väggar.
I de flesta inredningar väljer man mörkbruna dörrar till gråa trägolv. Även vita eller gråa dörrar skulle passa. Gråa golv ser också väldigt bra ut tillsammans med vita dörrar med dekorativ inglasning.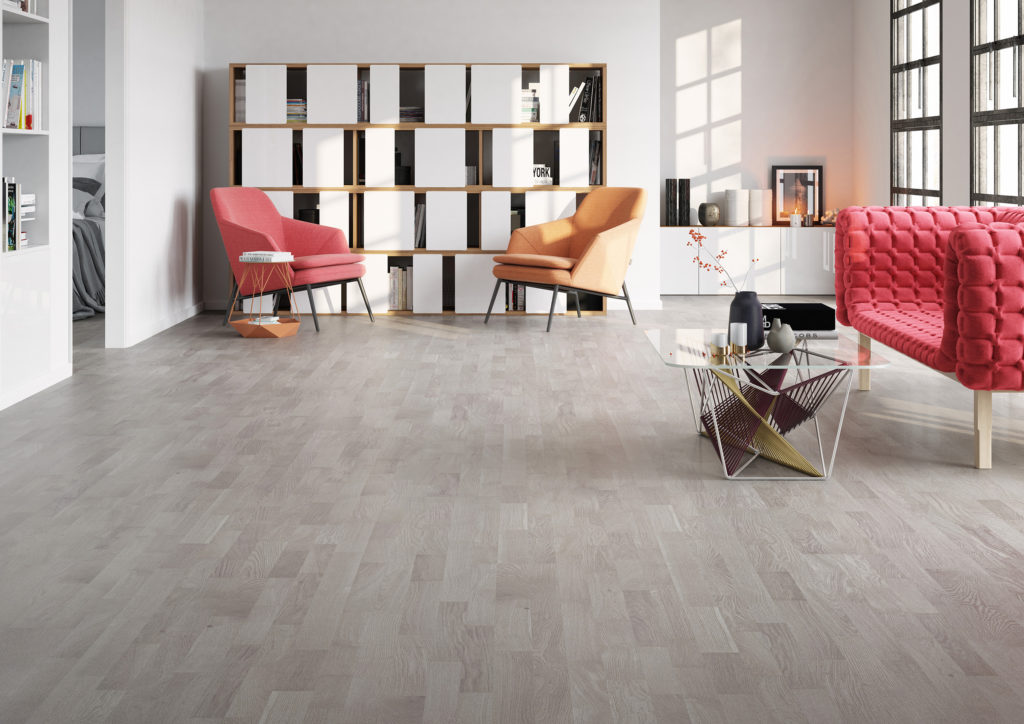 ETT GRÅTT GOLV – VILKA VÄGGAR OCH MÖBLER PASSAR?
Gråa parkettgolv passar olika interiörer. Ett grått golv i ett vardagsrum ser exklusivt ut. Det passar också sovrum eller barnrum. Dessutom är ett grått golv ett vackert komplement av ljusa möbler i kök.
Ljusa möbler passar utmärkt till ett grått golv. Om möblerna och andra föremål har en ljusare färg än golvet känns de också mindre och lättare. På gråa golv ser även möbler gjorda av mörkt trä (i wenge- eller nöt-färg) väldigt bra ut.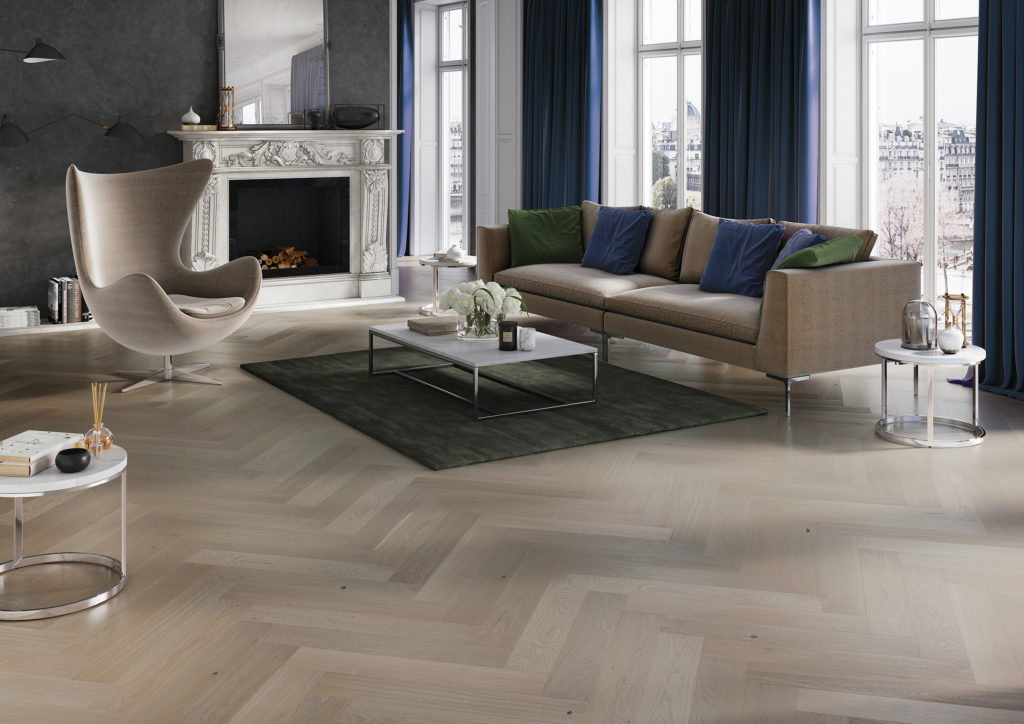 SKÖTSEL AV GRÅA GOLV
Hur ska man vårda ett grått golv? Till vardag är det bäst att dammsuga parketten. Då och då bör man rengöra den med ett speciellt medel som fräschar upp trä – det är viktigt att man använder rätt preparat anpassat till golvet. Svårare smuts kan tas bort med en fuktig trasa eller ett lämpligt, milt rengöringsmedel från Barlineks erbjudande.